Johnson clinics are designed based on needs of the group.  They specialize in  Calf Roping, Breakaway Roping, Goat Tying, Pole Bending, and Barrel Racing. Check back as we will continue to add throughout the year.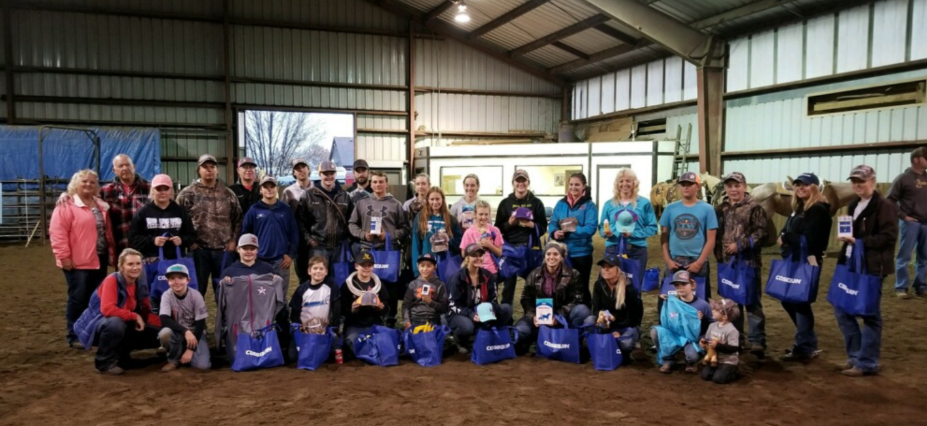 Here is an early schedule of 2021 clinic areas.  Please contact johnsonsportline@yahoo.com if interested in a clinic or hosting one.  We will share clinic flyers on Mike-Sherrylynn Johnson fan page facebook as they become available.
Tentative 2022 Clinics
February
11-12. St George Utah      Calf, Breakaway Roping and Barrels. 
March
11-13 CWC College Riverton WY. Calf, Breakaway Roping, Barrels.& Goats (
INFO
)
18-19 Northwest College Powell WY Calf, Breakaway Roping, Barrels & Goats (private)
22-23 Montpelier Idaho. Calf, Breakaway Roping (full)
25-26 Heber City Utah. Calf, Breakaway Roping & Barrels
30 South Franklin Indiana  Calf, Breakaway Roping & Barrels
31 Columbus Indiana.  Breakaway Roping Beginners
April 
 1 Columbus IN  Barrels
 2-3 Fountaintown Indiana. Barrels & Poles (full)
May 
14-15 Ford City PA  Calf, Breakaway Roping & Barrels (
INFO
)
22 Armstrong Illinois Barrels & Poles(full)
23 Armstrong Illinois Calf, Breakaway Roping
24-25 Oneill Nebraska Calf, Breakaway Roping
2021 Clinics
(Details coming soon)
January
29-30 St. George Utah Breakaway/Tiedown 19 students
February
13-14 Las Vegas NV Tiedown & Breakaway Roping/Goat tying 20 students
19-20 Heber City Utah Barrels/Tiedown & Breakaway/Goat Tying 38 Students
27-28 Havre MT (High Line 4-H) Barrels/Tiedown & Breakaway/Goat Tying 26 Students
March
1-2 Univ. Of Montana @Harve MT All Events 16 Students
19-21 Bellevue Michigan All events (2 Group Levels) 15 in each total 30
26-27 Northwestern College Powell WY All events 24 students
April
24-25 Coal City Illinois private clinic Advanced Breakaway 10 students
May
20-27 Morten Manitoba Canada( tentative on border- 4 clinics 15 each) 60 Total students
2020 Clinics
January 31-February 1 St. George Utah (All Events) contact Darley Barrow
February 8-9. Lewiston Utah (private)
February 16 Homestead FL
February 17-19 SouthWest Ranches FL
March 7-8 Havre MT
March 10-11 University of Montana Havre MT
March 14-15 Riverton WY-CWC College
March 27-28 Cody/Powell WY-Trappers Arena(college)
April 4-5 Hastings MI
April 11-12 Melfort SK
May 1 Franklin IN (1/2 day roping, 1/2 day barrels)
May 17-31 Morden Manitoba (7-2 day clinics)
June 3-4 Pocatello ID
June 6-7 Charles City VA
————————-————————-————————-————————-
TBA clinics
Indianapolis area Indiana
High River AB
St George Utah
Hempstead TX
Ceres CA
2019 Clinics
January 18-20. Lewiston Utah   Clinic-Full Private-Roping only
February 17- 19 Davie Florida area. Barrels and Roping
Feb 28 and March 1-3.  Livingston Montana all events
March 2-3 Ceres CA. All Events
March 8-10 CWC Riverton Wyoming all events sponsored by the college
March 12 Saint George UT Mini Clinic All Events
March 17-19 Havre MT
March 23–24 Northwest College Powell Wyoming All events
March 30-31 Brenham TX Roping Events
April 12-13 Brownsburg IN Barrels goats, roping
April 21-22 Fort QU Appelle SK Barrels
April 23-24, Saskatchewan central roping, goats
April 26 Calmar Alberta Mini Clinic
April 27-28 Alberta  Private Roping Clinic
May 18 Logandale NV All Events
May 20/ 21/22Morden MB   breakaway roping, calf roping, goat tying-saddle given
May 23–24  Morden Manitoba barrel racing saddle given
May 25-26. Morden Manitoba Barrel racing saddle given
May 27-28. Morden Manitoba Barrel racing saddle given
May 29-30. Morden Manitoba Colts starting
June 1-2 Mechanicsville VA. All Events
June 10-11 Havre MT